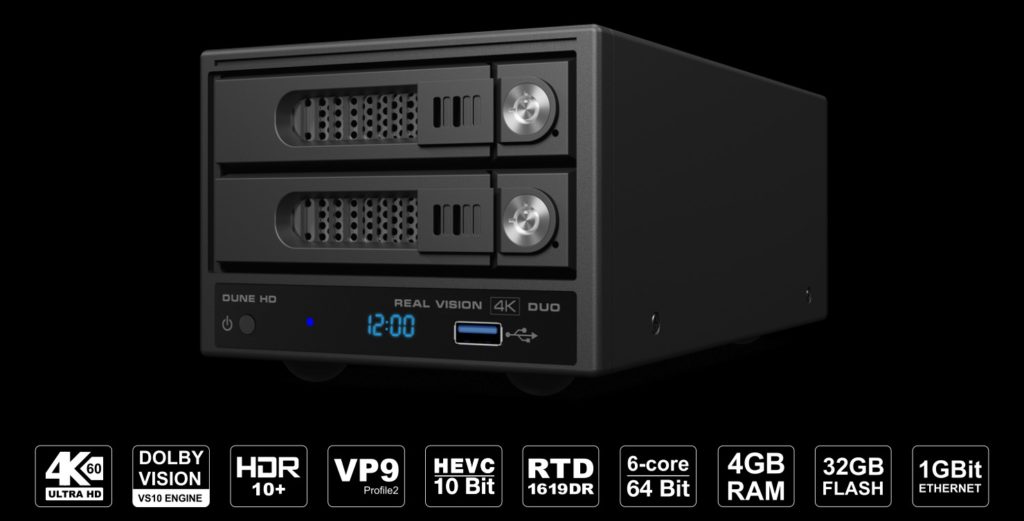 Dune HD is recognized as a global leader in high-performance digital media players. Dune-HD received more awards than any other company in the category for delivering the very best in networked digital media devices. Products support the widest number of digital formats in use today. From Internet-based digital streaming and downloadable content, to disc based formats such as Blu-ray, DVD and CD.  Media players offers an array of high-quality digital media players
for both consumer and commercial markets. The product line ranges from low-cost, compact set-top box (STB) designs to professional-grade universal media players with internal hard drive bays and full internet and content connectivity. Products line feature the best-in-class chipsets for extreme speed and performance. New video codecs AV1 and VP9 Profile 2 (VP9 HDR) are extremely important for future full support for YouTube 4K HDR and other OTT / VOD services.
Dolby Vision and HDR10+ .The media player supports not only HDR technology (supported by the previous generation of media players). But also the most latest and advanced Dolby Vision and HDR10+ technologies. In conventional HDR technology, the brightness range is set at the beginning of the film and does not change during the film, so completely dark and completely bright scenes may have insufficient detail. In the latest Dolby Vision and HDR10+ technologies, the brightness range can vary from frame to frame, so the maximum picture detail is provided even in scenes that contain only dark or only light elements.